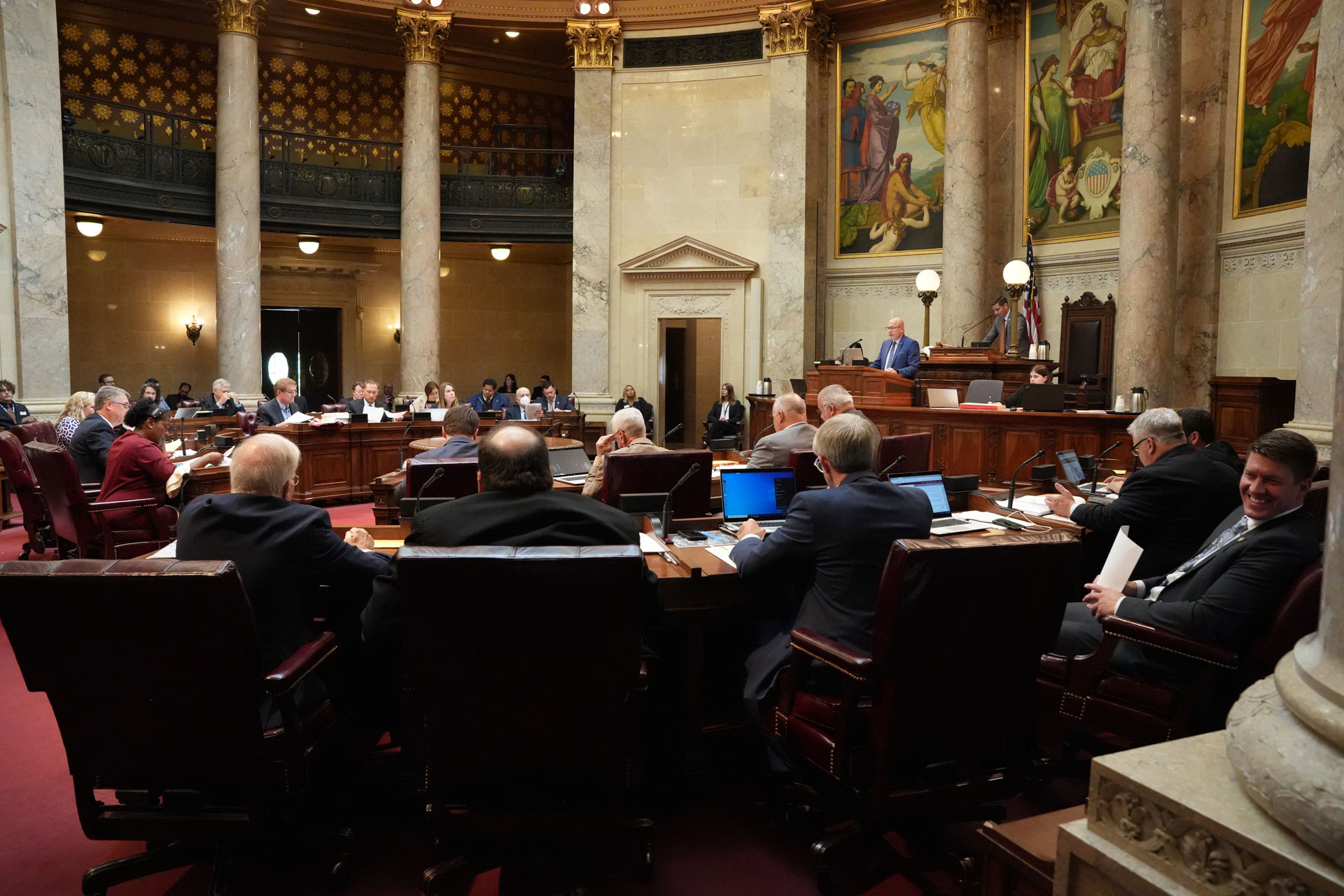 September 14, 2023
By Lane Kimble
MADISON, Wis. — Championship athletes will often tell you it's the journey – not the destination – that's the ultimate prize.
After years of fits and starts on a particularly important piece of legislation for roadbuilders, state Representative David Steffen would agree.
"When you work this hard on something, it's that much more rewarding when you actually succeed," Steffen (R-Green Bay) told WTBA at the state Capitol this week.
Thursday, the state Assembly and Senate both unanimously approved Steffen's utility compensable delay bill, which he co-authored with State Senator Cory Tomczyk.  Lawmakers introduced the bill in May, but the need for reform – and the industry's efforts on the matter – go back at least five years.
"We had a little bit of secret sauce this time of really trying to focus, on the front end, of, how do we get this to yes for everybody?  Part of that is just having the right mindset," Steffen said.
The bill streamlines the process for contractors when they encounter a utility-related delay on a state-let road project. Instead of trying to collect what WisDOT considers compensable from the owner of the utility or infrastructure (and often opting to drop the matter instead of facing potentially cost-prohibitive court battles,) contractors will receive compensation directly from WisDOT if the Department deems the delay legitimate.
The bill also creates a clear appeals process and requires a report to the legislature on the program after four years.
In addition to often costing WTBA members tens of thousands of dollars in lost time and expenses, utility delays can be dangerous to construction workers and the public.
"We want these road projects to get done, we want everyone to be responsible for the work they do on the roads, and this is very important legislation for all of us," Sen. Tomczyk said during a public hearing in May.  Five WTBA members also shared personal stories during the hearings that day.
Getting to this point required a great deal of time, trips to the Capitol for WTBA and its coalition, and making sure all stakeholders – contractors, WisDOT, and utilities – were on the same page.
That meant collaborating on some amendment language along the way, mainly to ensure WisDOT and utility concerns were ironed out.
"It's something I strive for… making sure that every voice is heard and usually that ends up with better legislation," Steffen said of the collaborative approach.  "To be true, it's a reality and a necessity if we actually want to get things done."
Gov. Tony Evers still needs to sign the bill, then WisDOT will have 60 days to build the process into future lets.  Projects already let will not be grandfathered in.
That means 2024 will usher in better protections and reforms for the roadbuilding industry – a prize that Steffen knows would've been impossible to reach without a true team effort.
"I'm so thankful that WTBA (and) its members have been so active with this process," Steffen said.  "It wouldn't have happened without their involvement."